Patch 5.0 Overview
Hey guys, all of the servers will get the 5.0 new patch tomorrow (maintenance patch notes is listed in the bottom of this article). I made six guides on the 5.0 patch so if you have not checked them out yet, be sure to do so 😀 .
Patch 5.0 First Look:
Information on Kitten Club, Tenacity Fate System, Cross Server Multiplayer Dungeon, Modified Sylph Arena, etc.
Click HERE to open the article.
Patch 5.0 Second Look:
Info on the Hell Mode (rewards, requirements, etc), Eudaemon Arena, Vulcan Hammers from Purgatory Maze and more!
Click HERE to open the article.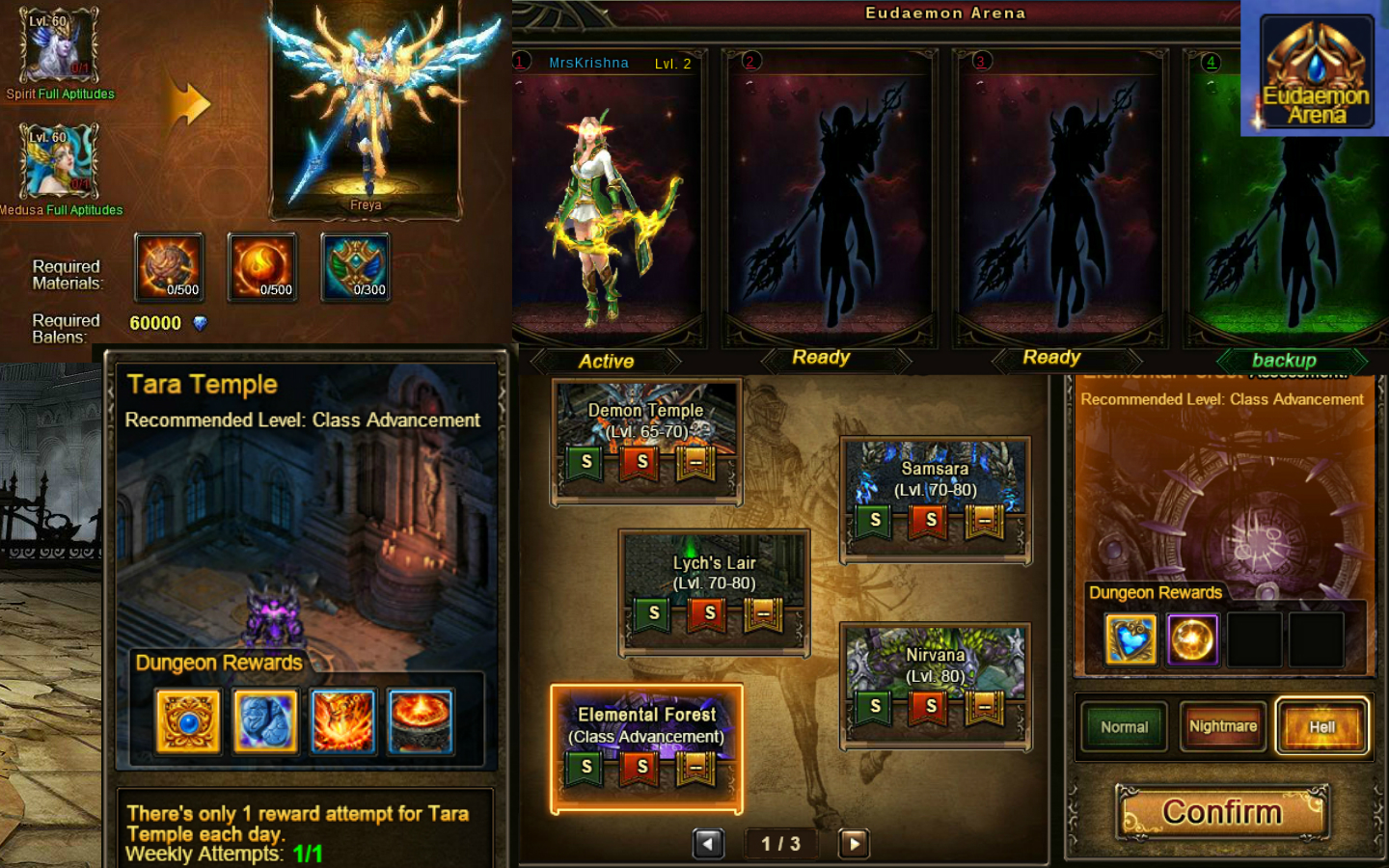 New Updated Sky Trail Guide:
This guide explains the new sky trail in depth, the rules and the awesome rewards!
Click HERE to open this guide.
New Eudaemon – Wind Ranger Guide:
In this guide, all of the wind ranger skills and what they look like through the levels will be explained.
Click HERE to open this guide.
Tara Temple Guide:
The new weekly dungeon is explained in depth with a video to go with it!
Click HERE to open the guide.
Sylph Merge of Wind + Water Guide.
All of the requirements for the Orange Wind + Water Sylph, Red Wind + Water Sylph and it's skills is explained in this guide.
Click HERE to open the guide.
Maintenance Patch Notes:
The maintenance patch notes for tomorrow is:
1. Added a Eudaemon PVP Arena.
2. Added a Cross-server Dungeon.
3. Added a Weekly Dungeon.
4. Added a new Eudaemon: Wind Ranger.
5. Added [Hell] difficulty for Lvl. 60+ multi-player dungeons. This difficulty level requires a relatively high BR and strong resistances.
6. Added Kitten Club.
7. Optimized the Sky Trail.
8. Optimized the Sylph Arena.
9. Optimized the Wheel of Fate.
10. Optimized the Resistance system in the following ways:
Increased Sylph resistance.
Removed the Resistance requirement for unlocking RES Reduction.
Kingdom Mark is now no longer required for unlocking a Copper, Silver or Gold Shield.
Removed the Resistance requirement for unlocking a Diamond Shield.
The Resistance and RES Reduction now display as a percentage while in battle.
11. Improved and optimized game resolution, game backgrounds, frame rate and UI.
12. Improved dungeon clearance rules.
13. Changed the amount of EXP required for Class Advancement to a more realistic amount.
14. Optimized and combined Daily Events and Daily Guide systems into one.
15. Adjusted rules for refreshing Sylph Atoll BOSS. The Sylph Atoll BOSS icon will now display permanently. Players can click on the icon, at any time, to check the Sylph Atoll BOSS refresh time.
16. Adjusted rules for learning Sylph Skills, the Shop no longer sells Sylph Skill Books. Players can use Balens to learn Sylph skills and level requirements have been removed.
17. Adjusted the Shortcut Key for Eudaemon, Delphic.
18. Adjusted the Recovery system, players can now only recover EXP for free or with Balens.
19. Fixed an issue where a buff caused damage dealt by the Lvl. 80 Forgotten Catacombs BOSS to increase by 1000%, yet damage dealt by Lvl. 85 Forgotten Catacombs monsters would only increase by 100%.
20. Divinity materials such as Divinity Stones can no longer be found in the Purgatory Maze; they can be found in the Sacrifice System in the Dimensions.
21. Fixed the issue that the guild upgrade button is not working;
22. Fixed the issue that the light resistance gems may give an incorrect value of the total light resistance;
23. Fixed several other minor issues.
---
Hope you guys enjoyed those articles and be sure to comment below if you are exciting for the 5.0 patch!
Matched Links from DolyGames Sites / Google