[Patch 6.1] All Other Changes
Patch 6.1 is out soon and here's the exhaustive list of all the other upcoming changes we've documented, but that are a bit too small for their own posts!
Archaeology
A convenience checkbox was added to the Archaeology page to show only the items you can exchange for.
Beginner's Mine
Now all levels of Beginner's Mine can be purchased.
Clothing Engulf
Players can now input a number in the Clothing Engulf panel to decide how many Fashion Cores or Good Luck Charms they would like to use.
Cloud Adventures
Adjusted the initial number of die in Cloud Adventures. There will be 10 Common Dice and 7 Magic Dice.
Craft Menu Re-organized
No substantive changes. All just re-organization of what is already there.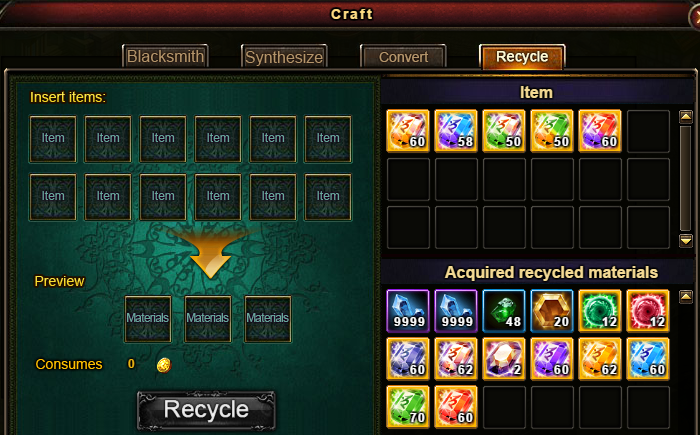 Cross-Server Friends List
This is a little hard to test on the test server (nobody to interact with from different servers), but I suspect it's possible to add people through battleground or other cross-server events. Not sure if this means you can PM them and see their stats in real time or not (will update this once we know).
Devotion
A few more items have been added to the Devotion list, which will make getting to the 300 devotion reward just a bit easier. Only the list shown has changed. Items under the other tabs appear to be the same as before.

Discontinued Items
Removed Dimensional Essence and Divine Light from the game.
Dragon Invasion
Players won't have to refresh the game to click on Boss 19 anymore.
Friends
The "Friends" button has made its glorious return to the lower bar, instead of with the top-right "city" menu. Now it's located next to the Guild Chat button.
Gold Cap/Maximum
Your gold can no longer "go into the red". The cap is set at 2,147,483,647, after which if you earn more gold, you won't receive it. You have to be especially careful of this cap if you sell large numbers of farm animals for gold.
Gold Levy
Levying gold from your Town Hall will no longer have a cooldown between pickups. Long time VIP players won't notice any difference, but for non-VIP players you won't have to wait that 1 hour.
Left-side Menu
The left-side menu contents have changed to include several more items that you have to scroll through.
Multiplayer Dungeon Optimization
Now players only have 1 free attempt to use MP Dungeon Quick Invite.
Players will not be able to modify Quick Invite content.
QTE
QTE has been removed from regular/non-knighthood skills.
Sylph Equipment Upgrade/Enchant
When you upgrade the quality of your sylph equipment, it will now maintain the enchantment level it had before the upgrade.
Elia note: I HIGHLY recommend you not upgrade any sylph gear until after the patch.
Time Box
Daily Events that only occur during certain time windows are now grouped under the "Time Box" button in the top menu.
Voyage Optimization
The voyage panel can now display how many Nautical Coins players have.
The confirmation message before upgrading ships will now offer tips on the number of Nautical Coins required and estimated sailing time.
Wraithstones are available for exchange

Video
Patch 6.1 OVERVIEW of All Changes
Click here or below for more on Wartune Patch 6.1!
Matched Links from DolyGames Sites / Google