New Fishing System – Wartune Game Update Nov 2015
Hey guys, in this post we share with you the new New Fishing System in the upcoming Wartune update which we expect in November 2015 (no official confirmation). In the new Fishing mini-game there are some good changes, especially for players who didn't level up their Fishing before and weren't getting good rewards from the game. The rewards for each of the fish have changed and the new patch appears to have removed a lot of the help pages for the mini-games that list the rewards. We have a complete list of the rewards for the new fishing system here, so read on!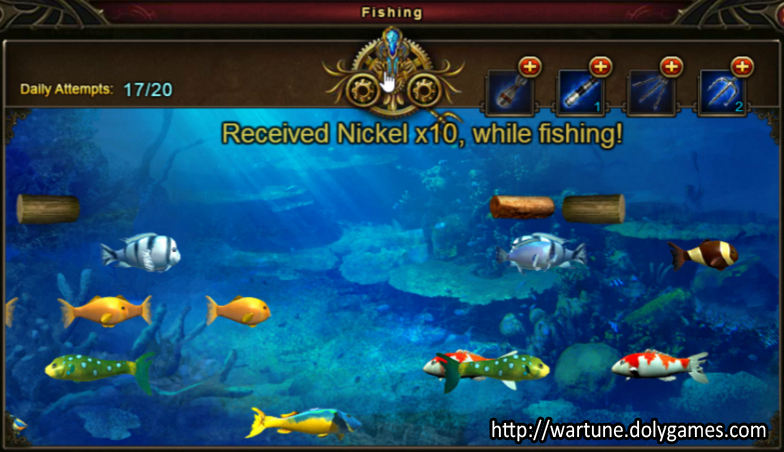 New Fishing System Changes
No leveling or level requirements
No cooldown period for attempts
Available only on Mondays through the new Game Box System


Weapons are purchasable for 10 Balens each

Fish give completely different rewards (listed next)
Update: Tips from Anna
If the character has a certain level or higher (I believe it is Level 70) you get double rewards.
Reward for helping someone to catch a wild fish is 2 Nickle.
New Fishing System Rewards
I think it will be disappointing for players that were using Fishing for VIP cards and fashion shards to see those options unavailable. However, it's possible to get 200 Nickles (not using weapons), which can be exchanged for some desirable items like Beast Souls and Bound Balens. Wild Fish is definitely still available, but I wasn't able to confirm the reward for it.
| | | |
| --- | --- | --- |
| Fish Pic | Pre-Patch Reward | After-Patch Reward |
| | Gold Chest | Nickel x1 |
| | Daru Pearl | Nickel x2 |
| | Lvl. 5 Luck Stone | Nickel x5 |
| | Shadow Crystal | Enhanced  Bounty Scroll x2 |
| | Enhanced Bounty Scroll | Shadow Crystal x2 |
| | Insignia | Shadow Crystal x1 |
| | Crypt Token | Shadow Crystal x2 |
| | Refinement Lock | Bounty Scroll x1 |
| | Fashion Shard | Nickel x10 |
| | VIP Card | Enhanced Bounty Scroll x2 |
| Special Wild Fish | Bound Balens | ??? |
New Fishing System Video
Where do you guys stand on these changes? Looking forward to it, disappointed, a little bit of both? Share your thoughts and tips 🙂
See all posts about Wartune Game Update Nov 2015:
Matched Links from DolyGames Sites / Google