Wartune Patch 7.0 Gift Box / Gift Party Guide
Hi everyone! This is the Wartune Patch 7.0 Gift Box / Gift Party guide. This is a new feature inside the Magic Inn. This guide combines 3 elements: (1) A video demonstration / explanation by me, (2) short text created I believe by the game developer and distributed to their various publishers and (3) Additional information and pictures from me. So check it out below and if you have any questions or comments put in the comments below.
VIDEO: Wartune Patch 7.0 – GIFT BOX Guide – New Magic Inn Feature
And you can refer to the video playlist for Wartune Patch 7.0 here:
And now the developer's guide with some modifications:
Wartune 7.0 Gift Party
Prologue
Lack Magic Inn gifts? Friendliness never seems to improve? Then join Gift Party to win all the gifts your heart desires!
Entry
① Click [Gift Party] in the Magic Inn panel to enter.
② Click [Gift Party] in the Time Box to enter.
Event opens daily from: 12:00-12:30 and 18:00-18:30. (Event time may be adjusted, please stay tuned.)
Unlock Requirement
This feature unlocks at Level 32 after unlocking the Magic Inn.
Gameplay Information
1. Event Panel
① Party List. When you have the required shard for a party, you can click the [Join] button to begin.
② Page up/down icon
③ Remaining attempts to join Gift Party. The image shows there are 3 attempts left.
④ Current Shard. The shard shown is a Common Shard (C).
⑤ Refresh/Sell icon
⑥ Party creation icon/party info
2. Party Constitution
A party consists of 3 members. Each member's shard should be different and a party should contain one (A), one (B), and one (C) shard. Before you join a party, you can click refresh to change shards. Refreshing 1 time costs 25 Balens. You cannot change your shard once you join a party.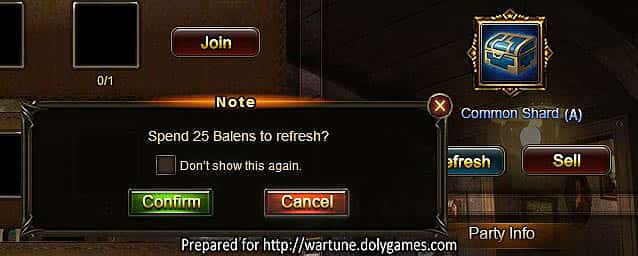 3. Reward Info
When all 3 eligible players are ready (Party Leader is ready by default), the Party Leader can start the party.
Shards are divided into Common, Epic and Rare based on quality. Party rewards are based on the party's cumulative shard quality. The higher the party's shard rating, the better the rewards. If you haven't joined a party, rewards for selling a shard will be based on the single shard.
Each player can only receive rewards up to 3 times every day (party up or sell).
Rewards
Magic Inn Gifts that can only be gifted to Magic Inn NPCs.
Additional Info
Here I add more info and pictures:
You need to have the correct shard type (A, B or C) in order to join the party. The order is from left to right by the letters, so if the first slot is missing then the A-type is required. The color or rarity of your shard does not matter for joining a party, but it does matter for determining the final rewards.
Reward example (3 purples):
Example: selling an orange / epic shard:
1 Ice Cream Gift
1 Kite Gift
1 Sweet Chocolate Gift
1 Lantern Gift
Example: selling a purple / rare shard:
2 Ice Cream Gift
1 Kite Gift
1 Sweet Chocolate Gift
Conclusion
I think this is a great feature for all players, because it is all additional rewards on top of whatever we already have. Also players can do this 100% for free or if they wish to spend balens for a bit higher rewards there is that ability also. Do you agree? Put your thoughts in the comments below on this new Magic Inn feature – Gift Box.
Matched Links from DolyGames Sites / Google