[Patch 6.1] Wedding Ring Crafting Costs and Abilities
In Wartune Patch 6.1 new additions bring us new marriage skills to wedding rings. The wedding ring level raises to level 17, and the possible skills are more like choosing an additional rune to bring to battle!
Star and Crescent Wedding Ring Levels
The first 9 levels of the wedding rings we're already familiar with. They require Eternal Hearts (found in dimensions and the Venus' Battle Shop) to level up. The  "E" skill is "Star and Crescent", which heals, purifies, and revives your spouse.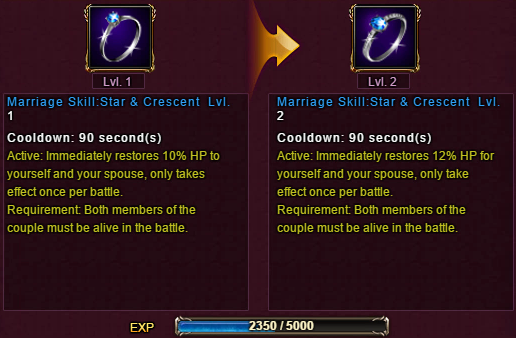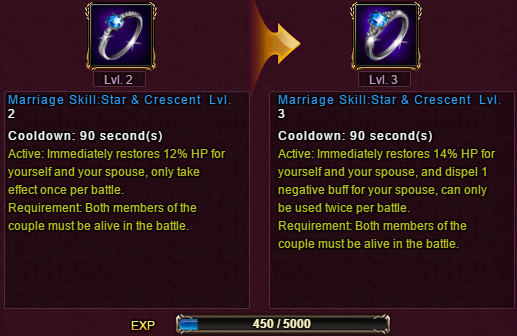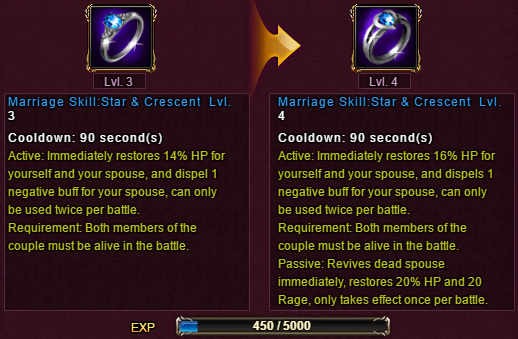 Advanced Wedding Rings and Marriage Skills
These are rings new to the game after Wartune Patch 6.1. They require Eternal Crystals (found in the Venus' Battle Shop). Levels 10 to 13 introduce new marriage skills, and Levels 14 to 17 increase the potency of them.
Love Shield
Generates an absorption shield for both players.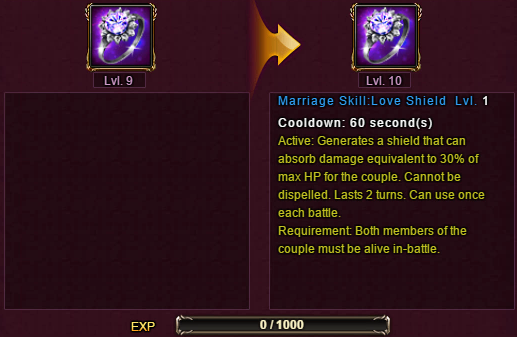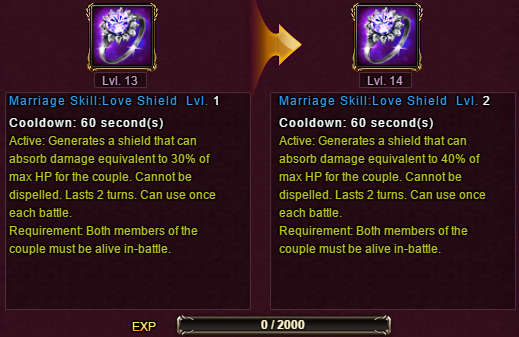 Awaken Suppression
Steals Awakening points from the entire enemy party.
Deadly Bloodshed
Bleeds the entire enemy party (bleed percentage to be determined), and decreases all enemies deal.
Furious Energy
A brutality buff that increases damage dealt by both players.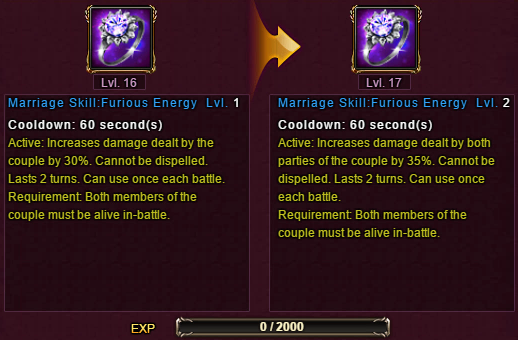 Marriage Satisfaction and Happiness
For more reference material on additions to the marriage system see our post on marriage satisfaction and happiness!
Advanced Wedding Ring and Marriage System Changes
For video and general descriptions of changes to the marriage system, check out our Patch 6.1 guide on the topic:
Patch 6.1 OVERVIEW of All Changes
Click here or below for more on Wartune Patch 6.1!
Matched Links from DolyGames Sites / Google