325 Points Eudaemon Signet
Hey everyone! While some players complain about newly added mini-features in Wartune Patch 7.0 I think it is always nice to receive extra rewards on top of whatever we already have. In this short post I share with you a screenshot from Eudaemon Signet where I got up to 325 points completely for free.
This unlocked 3 rewards versus the usual 2 that I get the free way and I really did not think it would be possible to get this high without spending balens. But this proves that if you have a lucky day you can get pretty high and maybe even unlock the 4th reward.
I am especially happy to receive extra Books of Wisdom and this mini-feature is super fast to do (complete in seconds).
The Willpower items, if you don't need them right now, just keep gathering until you decide to go for the Angel of Light or Void Emissary or perhaps some other Willpower in the future.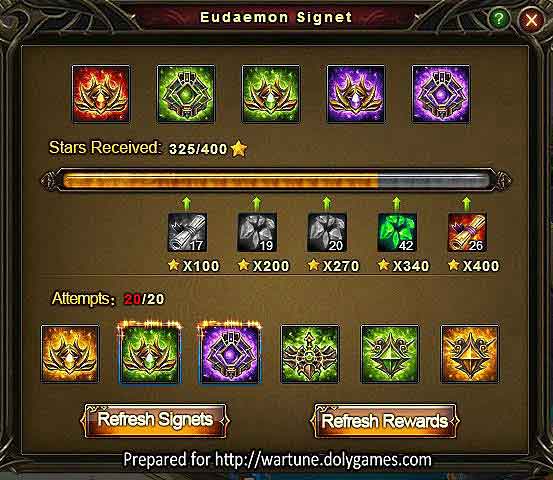 Matched Links from DolyGames Sites / Google
Matched Links from DolyGames Sites / Google