Home
»
Posts Tagged
"
Level 5"
Posted by COSMOS on Jun 23, 2017 in Analysis & Tables
Hey everyone! In this article we look at the new prices of the Will Crystals in Wartune's Mystery Shop. Special thanks to Farik for...
Read More

Posted by COSMOS on Nov 28, 2015 in Featured, News, Events & Patches, Sylphs, Wartune China
Hey guys, here to share with you info on Level 5 sylph skills which comes from Wartune China, thanks to Ezio. This gives us 3 pieces of...
Read More
Search for what you need:
Please Support
Hey everyone, if you do not want this huge Wartune resource to die, please support our daily hard work,
here are 3 options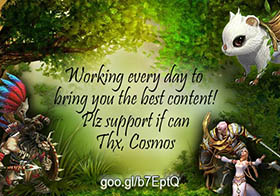 Weekly Popular Guides & Articles
Promo by Google