Home
»
Posts Tagged
"
Good luck charms"
Posted by COSMOS on Oct 6, 2017 in Clothing, Wartune Guides, Tips & Strategy
Hey everyone! This is a short & easy Wartune Clothing Engulf tip related to the item Good Luck Charm. Good Luck Charm used to be a...
Read More
Posted by Eliatan on Mar 16, 2015 in News, Events & Patches
(Posted by Eliatan — DolyGames Team Member) By now, many have noticed that Wartune probably made an error in the Clown Bowtie...
Read More
Search for what you need:
Please Support
Hey everyone, if you do not want this huge Wartune resource to die, please support our daily hard work,
here are 3 options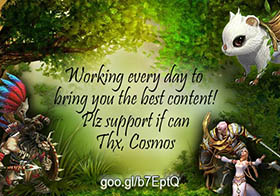 Weekly Popular Guides & Articles
Promo by Google