Home
»
Posts Tagged
"
Exquisite Chest"

Posted by COSMOS on May 3, 2017 in Analysis & Tables, Chest/Box Drop Rates, Featured
Hey guys, in this article I share with you the drop rate analysis for the Exquisite Chest from Wartune's Patch 6.5 new feature Speed...
Read More
Posted by DolyGames Team on Mar 2, 2017 in Game Activities, News, Events & Patches, Wartune Guides, Tips & Strategy
Hey guys, this is the guide for the new Wartune Patch 6.5 update feature called Speed Clearance. Prologue: New multi-player feature. Party...
Read More
Search for what you need:
Please Support
Hey everyone, if you do not want this huge Wartune resource to die, please support our daily hard work,
here are 3 options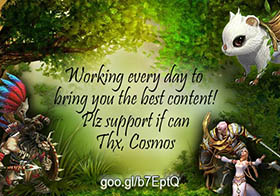 Weekly Popular Guides & Articles
Promo by Google