Home
»
Posts Tagged
"
thanks"
Posted by COSMOS on Jun 12, 2017 in Short Posts, Wartune Guides, Tips & Strategy
Hey everyone! This is a short post just to remind players that if you are asking for help from stronger guild mates or other players it is...
Read More
Posted by COSMOS on Apr 2, 2017 in Other, Short Posts
Hey guys, I just want to take a moment to say thank you very much to the people who help me pay our monthly costs! I am not sure I could...
Read More
Search for what you need:
Please Support
Hey everyone, if you do not want this huge Wartune resource to die, please support our daily hard work,
here are 3 options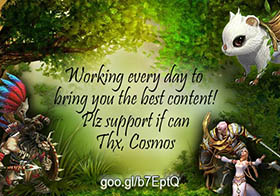 Weekly Popular Guides & Articles
Promo by Google