Home
»
Posts Tagged
"
chinese"
Posted by Krishna DolyGames on Jan 17, 2015 in Mounts
(Posted by Krishna – DolyGames Contributor) Hey guys, I want to share some future mounts we may get. We may not get all of these...
Read More
Posted by Imported from Cosmos Wartune Blog on Dec 3, 2013 in Uncategorized
(Posted by GandalfGrey)Title says it all, found this amazing video wanted to share. These players are so strong it is amazing.Grab some...
Read More
Search for what you need:
Please Support
Hey everyone, if you do not want this huge Wartune resource to die, please support our daily hard work,
here are 3 options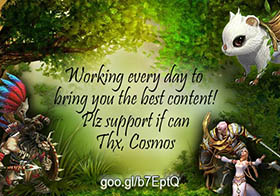 Weekly Popular Guides & Articles
Promo by Google