Home
»
Posts Tagged
"
balen mine"
Posted by COSMOS on Aug 24, 2017 in Featured, Fun / Funny, Fun Wartune Pictures
Hey guys, here is a compilation of various fun short posts/pictures I had posted on our social media pages: Balen Wheel A dream come true...
Read More

Posted by COSMOS on Jul 28, 2017 in Analysis & Tables, Chest/Box Drop Rates
Hey everyone! In this article I share with you analysis / drop rates of Balen Mines when exploring dimensions. Big thanks to Steel for the...
Read More
Search for what you need:
Please Support
Hey everyone, if you do not want this huge Wartune resource to die, please support our daily hard work,
here are 3 options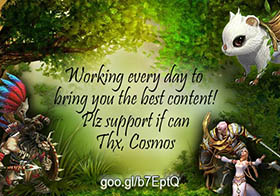 Weekly Popular Guides & Articles
Promo by Google